Free

PC Steward Software Web installation

file: 1.0.6 Size: 1.2 MB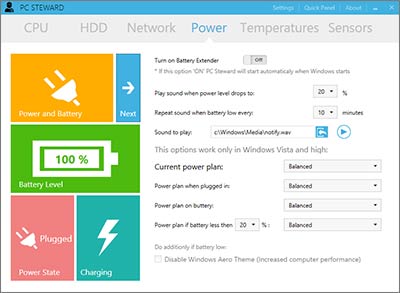 Monitor PC performance, optimize its capabilities and save up to 30% battery life
with free PC Steward
Why Choose PC Steward?
You get your notebook working longer thanks to extension of its battery life up to 30%. With highly acclaimed PC Steward by IQmango you can easily enable 'battery extender' mode, which lets your machine work 30% longer then usually. Isn't it a great news!
You get a full system scan, including current state of CPU, HDD and Network devices. Effective PC Steward thoroughly examines the whole system like a charm. It runs fast CPU productivity test, as well as 4 great tests of hard disks capacity (for IDE, SSD and USB). PC Steward quickly detects and analyzes all Network devices, their incoming and outcoming traffic. Knowing all this vital data you're now in complete control of your PC!
You get a much faster working PC! Thanks to a complete Windows scanning fantastic PC Steward successfully provides you with valuable information about state of your Windows physical and virtual memory. Now you can lighten all operating processes exceedingly!
| PC Steward Software - Features | FREE |
| --- | --- |
| Optimization of PC performance | |
| 5 productivity tests for CPU and hard disks | |
| Extension of notebook battery life up to 30% | |
| Analysis of network devices, incoming & outcoming traffic | |
| Convenient user interface | |
You might be also interested in Free KidsGuard and free PC Cleaner for cleaning up your PC.