How to Convert FLV to MP4 using IQmango Video Converter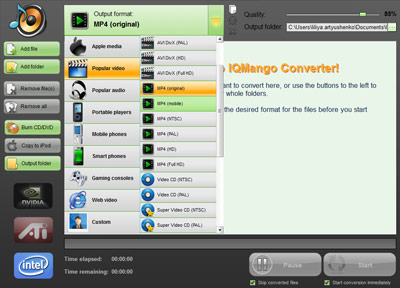 Sometimes you need to convert Flash to a more suitable video format like MP4. To convert FLV to MP4 the fastest way and totally free you need to install a stunning free app - IQmango Video Converter.
1. Download IQmango Video Converter from this link: http://www.iqmango.com/Video_Converter.html. The program is free to download, install and use!
2. When installation of IQmango Video Converter is finished simply launch the app. To choose output format click on "Output format" to select MP4 as an output format.
3. Move the "Quality" slider to the right to achieve the highest possible quality for the output MP4 file.
4. Choose the output folder of your choice in the corresponding field. Thus your output converted MP4 file will be located in the chosen folder.
5. Click "Add File" or "Add Folder" to select your input Flash video files for further conversion. Once selected the converting process starts at once. You can cancel immediate conversion simply by unticking "Start conversion immediately" at the bottom right.
Witness the lightning-speed conversion from FLV to MP4 in IQmango Video Converter! The conversion to the preferred file format is finished in a couple of moments. Now your MP4 video file is ready for watching!
Thanks for using IQmango Video Converter!