How to Convert MP4 to MP3 using IQmango Video to MP3 Converter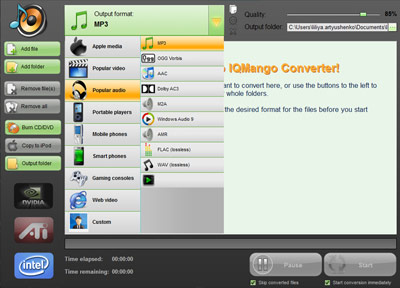 Converting MP4 to MP3 is essential if you use free great tool like IQmango Video to MP3 Converter. The converting process is very fast and without any difficulties you get an MP3 high quality audio track out of an MP4 file.
1. Free download of IQmango Video to MP3 Converter is available here http://www.iqmango.com/Video_Converter.html. Install and run this wonderful converter for free!
2. In "Popular audio" section of "Output format" profiles you will easily find "MP3". Select this conversion profile to be sure that the output file will be MP3.
3. By means of the "Quality" slider set the output quality to 100 percent.
4. You can choose any location for you output MP3 file by clicking "Output folder" option. If not chosen then your output file will be stored in the default folder.
5. Now you are ready to start the MP4 to MP3 converting. Choose "Add File" to select MP4 input file and see the conversion starting immediately.
The converting from MP4 to MP3 is finished and the converted output MP3 file can be found in the set output folder.
Thank you for using IQmango Video to MP3 Converter!