How to Copy a DVD using IQmango DVD Ripper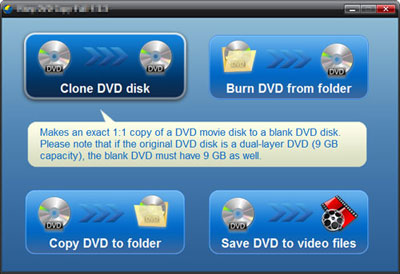 To successfully copy a DVD you need an effective tool that makes a copy of just any DVD, and IQmango DVD Ripper is that kind of tool! Besides the application is 100% free of cost, so you can download and create copies of DVD disks using IQmango DVD Ripper 100% free.
1. To start making a DVD copy firstly download and run IQmango DVD Ripper.
2. Choose "Clone DVD disk" among the available options of "Copy DVD to folder", "Burn DVD from folder" and "Save DVD to video files". This feature will help you to create a full copy of your favorite DVD
3. Insert the DVD disk. To start creating a copy of the inserted DVD simply click "Start".
Thank you for using IQmango DVD Ripper!